Using Electrospun Nanofibers for Pharmaceutical Applications
Electrospun nanofiber matrices display morphological similarities to the natural ECM, characterized by high surface-to-volume ratio, ultra fine continuous fibers, variable pore-size distribution similar to the dimensions of basement membranes, and high porosity.
As a result, there has been remarkable effort to develop new applications based on materials created using electrostatic processes in the pharmaceutical and biomedical field, ranging from tissue engineering, grafts (tendon, blood vessel, nerve, and muscle), anti-adhesion barrier membranes to scaffolds for the delivery of drugs and bioactive agents.
Wound Healing and Wound Dressing
Treatment of large wounds such as abrasions and burns is an appealing application of electrospun nanofibers. It has been discovered that these types of wounds heal quite rapidly and without any complications if they are dressed by a thin web of nanofibers, specifically, of biodegradable polymers.
These types of nanofiber webs have appropriate pore size to guarantee the exchange of gases and liquids with the environment, but have dimensions that stop the entry of bacteria. Mats of electro spun nanofibers normally display excellent adhesion to moist wounds.
Also, the large specific surface area of up to 100 m2g-1 is highly favorable for the adsorption of liquids and the local discharge of drugs on the skin, making these materials ideal for application in hemostatic wound closure.
In addition, multifunctional bioactive nanofibrous wound-healing dressings can be easily made available by just blending with bioactive therapeutic agents (like antiseptics, vasodilators, antifungal, growth factors, etc.) or by coaxial electrospinning. In contrast to conventional wound treatment, scarring is also prevented by the use of nanofibers as shown in Figures 1 and 2 [1].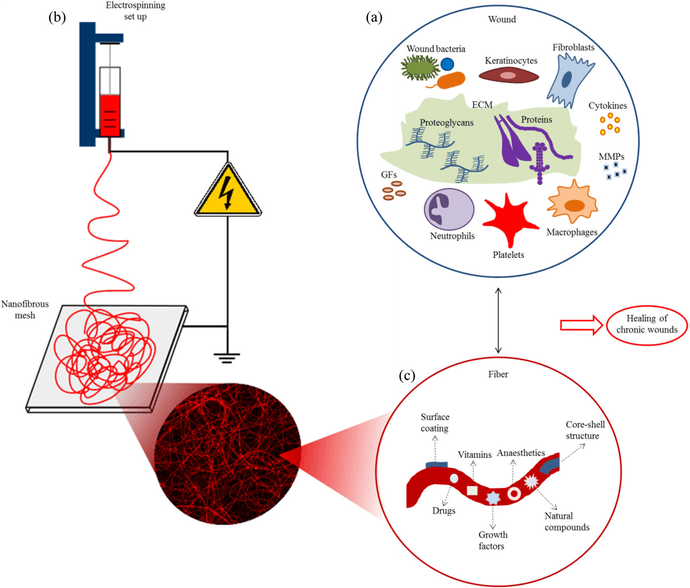 Figure 1. Schematic showing a) the principal biomolecules present in the wound bed and involved in the healing process; b) the fabrication of nanofibrous meshes by electrospinning process; and c) the main approaches to provide electrospun fibers for the necessary properties for wound healing applications [1].

Figure 2. Wound healing application [2]
Drug Delivery and Pharmaceutical Composition
Nanofiber systems for the release of drugs or other functional compounds are not only suitable for tissue engineering or wound healing, but nanostructured systems are also the best solutions for other types of therapies like therapy, inhalation therapy, or tumor therapy. These areas are currently being investigated around the world.
In an ideal case, they have to fulfil versatile tasks in this function. The nano-objects are meant to protect the drugs in the case of systemic application from decomposition, for instance, in the blood circulation. Additionally, they should enable controlled drug release at a release rate as constant as possible across a longer span of time, modified to the field of application.
They should be able to permeate certain barriers or membranes, for instance, the blood/brain barrier, and they are supposed to focus the release of drug only on the targeted body area. In this context, electrospun nanofibers may serve as controlled release agents and as carriers for drugs.
The domain of nanofibers loaded with drugs will probably be of little importance for systemic therapy but of immense importance for locoregional therapy, meaning the fibers are localized at the precise part of the body that has to be treated with the carried drug.
Cosmetic Applications
Nanofibers leverage their exceptional properties and are widely used in tissue engineering, cosmetics, filtering, sensors, composites, biomedical, protective clothing, electrical and optical applications, and agriculture. As nanotechnology enables the production of value-added products, cosmetics developed by nanotechnological techniques have attracted attention from various areas.
Using nanofiber production techniques, particularly by electrospinning, nanofiber mats with controllable pore sizes and fiber diameters can be achieved. Additionally, the unique approaches that have been revealed for cosmetics led to the utilization of more conscious cosmetic products including therapeutic products and products for skin health and renewal (such as facial masks for skin healing, skin cleansing, and skin therapy).
All of the ground-breaking products mentioned above can be created by using nanofibers produced by electrospinning [3].
References
[1] Electrospinning: Materials, Processing, and Applications, First Edition. Joachim H. Wendorff, Seema Agarwal, Andreas Greiner. (2012) Wiley-VCH Verlag GmbH & Co. KGaA.; Chp 9-Medicinal Applications for Electrospun Nanofibers.
[2] Review of the Effect of Processing Variables on the Fabrication of Electrospun Nanofibers for Drug Delivery Applications", Journal of Nanomaterials, Vol 2013, 2012).
[3] http://www.intechopen.com/books/nanofiber-research-reaching-new-heights/nanofibers-in-cosmetics
[4] Martina Abrigo, Sally L. McArthur, Peter Kingshott; Electrospun Nanofibers as Dressings forChronic Wound Care: Advances, Challenges,and Future Prospects, Macromol. Biosci. 2014, 14, 772–792

This information has been sourced, reviewed and adapted from materials provided by Inovenso.